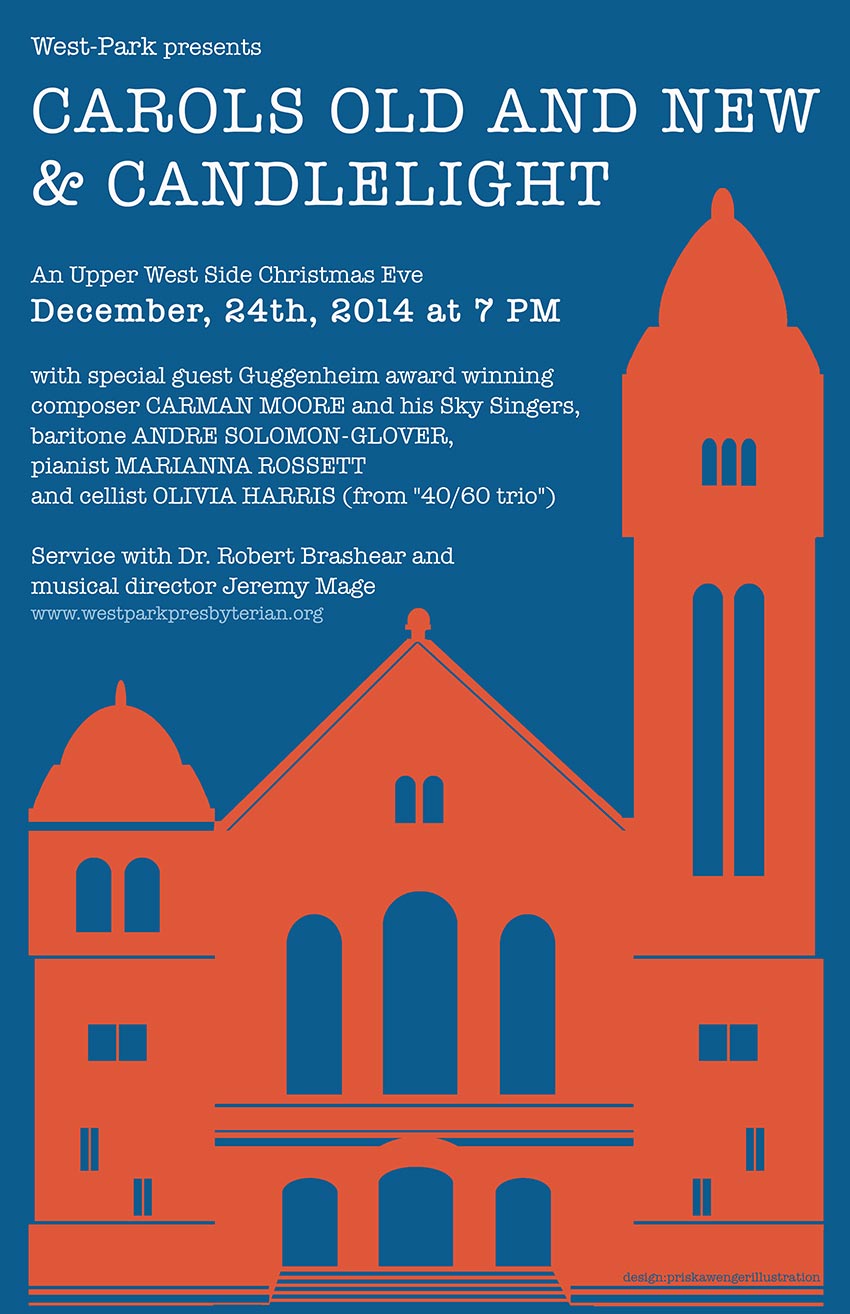 CAROLS OLD AND NEW & CANDLELIGHT                                                                      An Upper West Side Christmas Eve DECEMBER, 24TH, 2014 at 7 PM
With special guest Guggenheim award winning Composer CARMAN MOORE and his Sky Singers will premiere 3 new carols, including an ALLELUIA from his MASS FOR THE 21st CENTURY
Baritone ANDRE SOLOMON-GLOVER, Pianist MARIANNA ROSSETT, Cellist OLIVIA HARRIS (from "40/60 trio")
Service with DR. ROBERT BRASHEAR and Musical Direction JEREMY MAGE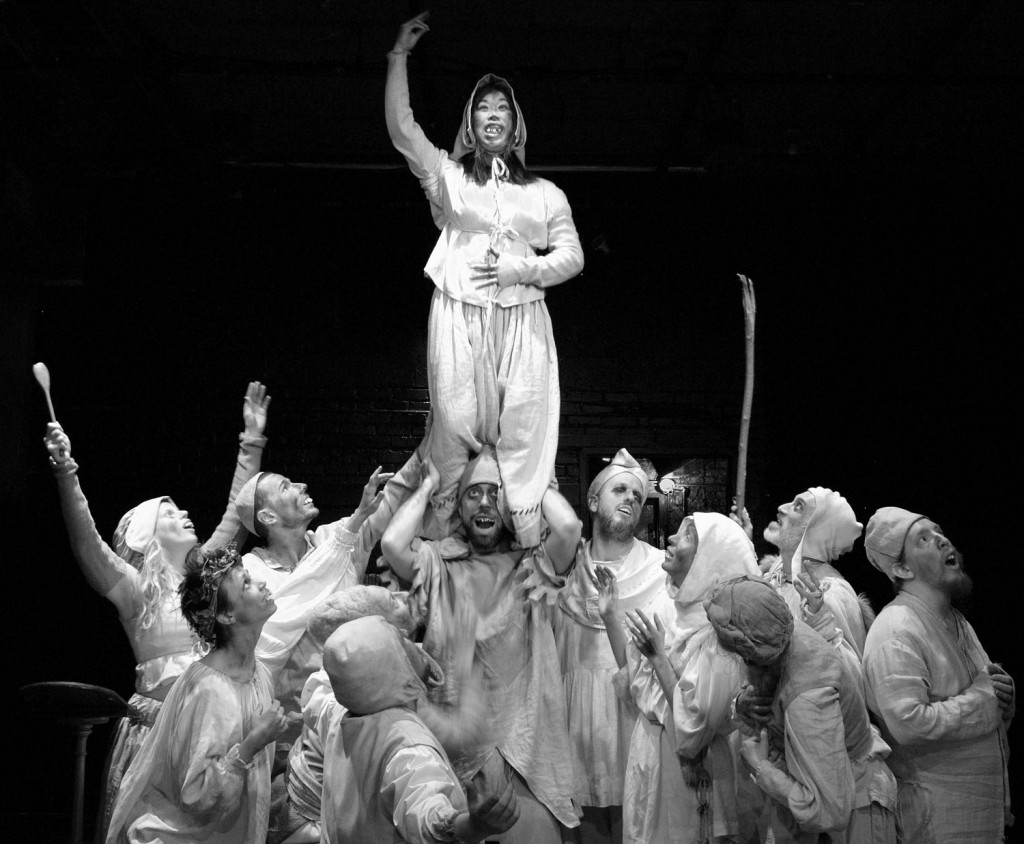 Sunday, December 21st at 11:00 AM
WEST PARK PRESBYTERIAN CHURCH As the morning service
165 West 86th Street at Amsterdam Ave
$10 suggested donation
Doors open 15 minutes prior to performance Reception to follow
Call 718 638 6037 for more information Or e-mail: matt@dziecitheatre.org
"The performers entered so truthfully into their characters and related
so lovingly with the spectators, we had no choice, but be engaged
and to engage in wonder. Dzieci is not simply a troupe of performers but
a community seeking together a profound relationship with the Spiritual." ~ Rex Deverell, Minister Emeritus, Calvary Baptist Church, Toronto ~
~◊~◊~◊~◊~◊~◊~◊~◊~◊~◊~◊~◊~◊~◊~
In Dzieci's living example of Holy Theatre, a group of medieval village idiots are forced to enact their own Mass, due to the untimely death of their beloved pastor.Bursting with buffoonery and comic audience participation,Fools Mass is balanced with lovely hymns and chants from the 8th to the 14th centuries, creating a seminal work that has been Dzieci's signature piece since 1998.
THERE'S NO PLACE LIKE HOME –  A Holiday Benefit - Concert Event For Interfaith Assembly on Housing and homelessness and Housing
Monday, December 15, 7:00 pm – 9:00 pm
Join Grammy Award Winning Singer Songwriter Julie Gold, acclaimed Writer Performer  John Jiler, special Musical guests including Christine Lavin,  Suzzy Roche and Lucy Wainwright Roche, Tara Robinson and Derrika Willock, Bob Brashear and Friends – MURRAY FROM SESAME STREET and other special friends for a Benefit for the Interfaith Assembly and its Life-Skills Empowerment Programs.
The evening's sponsors include: West West-Park Presbyterian Church, Congregation Ansche Chesed, Advent Lutheran Church, West End Collegiate Church, Holy Trinity Catholic Church, West End Presbyterian Church, Church of the Holy Name, Holy Trinity Catholic Church, Broadway United Church of Christ, Church of the Blessed Sacrament. Life Experience and Faith Sharing Fellowship
Tickets                                                                                                                            The program will be followed by a brief reception.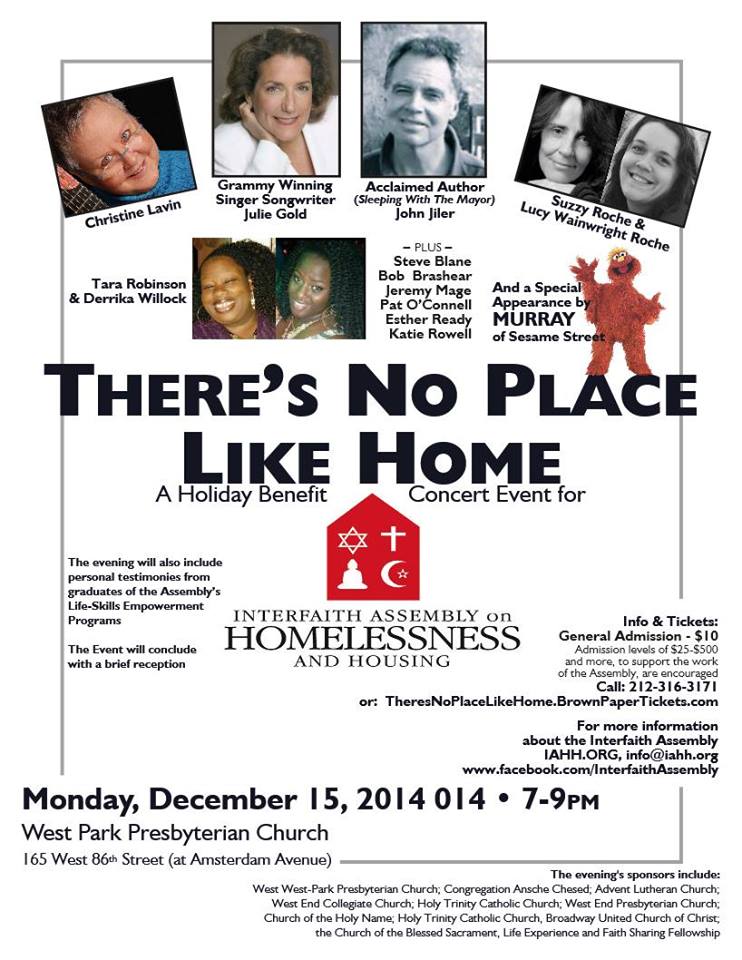 SUNDAY CONCERT SERIES 10:30 AM
Sunday, December 14, 2014
Featuring music by Jeremy Mage Singer/Composer and Musical Director at West Park Presbyterian Church.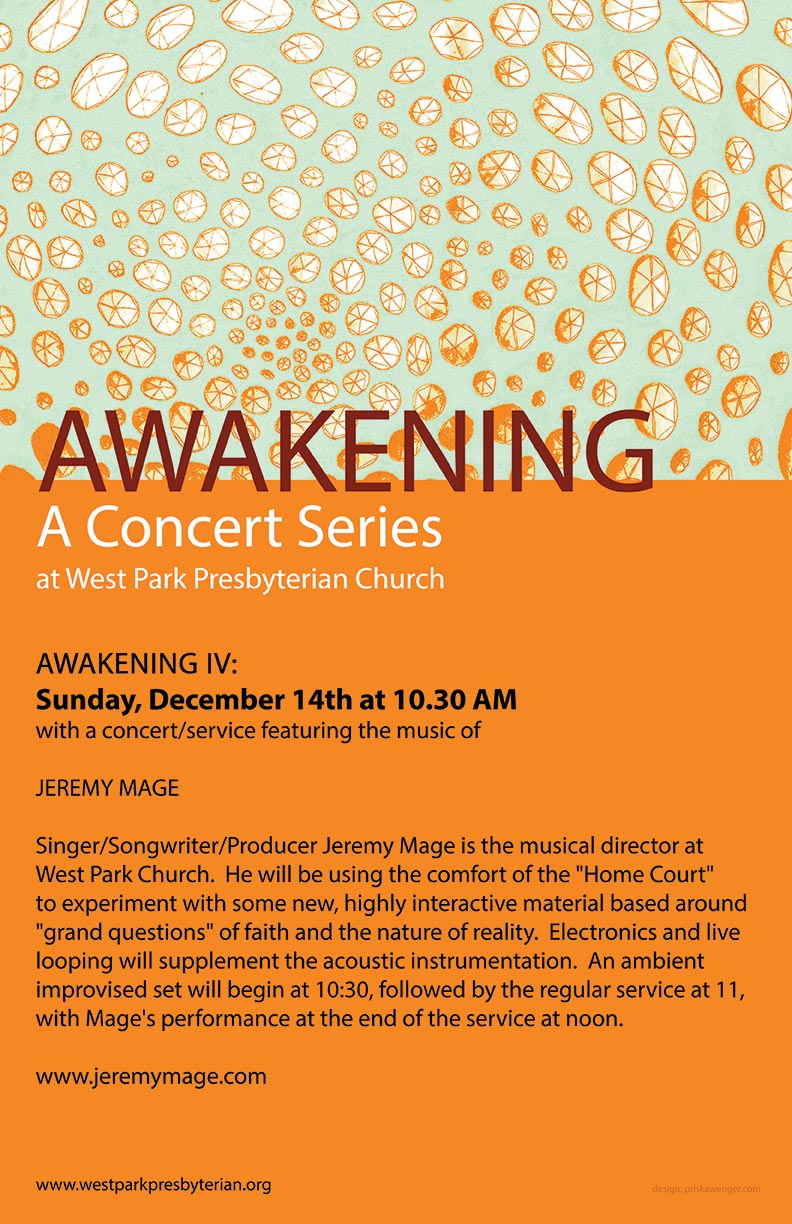 WEST PARK PRESBYTERIAN CHURCH TO OFFER HOLIDAY CONCERT SERIES
This holiday season, West Park Presbyterian Church will be presenting a series of concerts and performances at their historic landmark church building on West 86th St. and Amsterdam Ave. Curating the series and leading music for worship will be  Jeremy Mage, Grammy winning multi-instrumentalist, singer, songwriter, producer and composer. The concerts will be held in conjunction with "Awakening," a series exploring the intersection of ethics and esthetics, beauty and justice. The series begins Sunday, November 23rd at 10:30 am with a concert/service featuring the music of Thomas Carlo Bo based on the poetry of Jake Schneider. Two world premiers will be presented as part of the series; Prophecy from a Refrigerator Box, a Tone poem for Baritone and Jazz trio and Anesthesia a collective meditation for Baritone, Jazz trio and Congregation. Performing will be Thomas Carlo Bo, piano; Roland Burkes ,baritone; Josh November, bass and Jon Di fiore – Drums. Also scheduled is Stephanie Johnstone, composer/lyricist. Her performance on Sunday, December 7th will provide concert-goers with a "music-drenched, highly collaborative theater experience". On December 21 the highly acclaimed Dzieci Theatre will present a "Fool's Mass".
For more information contact:
Robert L. Brashear, Pastor
212-362-4890
rlbrashear@westparkpresbyterian.org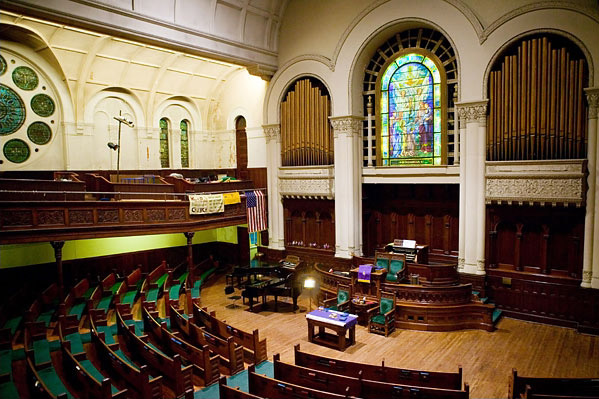 Our Mission
West-Park is a faith community committed to being agents of change for the transformation of ourselves, our community on the Upper West Side, our city of New York, and those places our congregants have a special relationship with. We are committed to working with each person to discover his or her own allying as we seek to follow the path of Jesus together. We will work together with all who are committed to building a more just, humane and sustainable world.
"Not by might, nor by power but by my spirit says the Lord god of hosts" (Zechariah 4:6) Park Church, 1889